Photo Gallery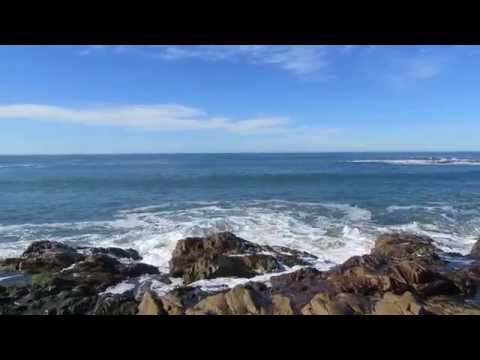 About Bean Hollow State Beach in Pescadero, California
Bean Hollow State Beach is located on a remote stretch of coast between Davenport and Half Moon Bay. It has a couple scenic beaches with a hiking trail that connects them, and each has a separate parking area with easy beach access. Arroyo de los Frijoles Beach is the larger main beach at Bean Hollow State Beach.
Arroyo del los Frijoles cove has a sandy beach with rocks near the center and two rocky points that close off the cove a bit from the ocean. Tidepools can be found in the rocks all around this cove at low tide. The creek in Arroyo de los Frijoles flows down to Lake Lucerne, a small reservoir next to Highway 1, and then hits the beach south of the parking lot entrance (flows to the ocean in winter and after rains). Note that the shape of the cove creates a strong rip current so swimming is dangerous here.
There is a self-guided nature trail that begins at the north part of the beach and follows the bluff between the highway and the ocean all the way to Pebble Beach, the northern beach of Bean Hollow State Beach. This trail is about one-mile each way making it an easy round-trip from either beach. Pebble Beach is known for its mixture of colorful pebbles including agates, jade, jasper, and moonstone.
Tafoni is common at these beaches. This honeycomb-like pattern of small recessed holes is formed in softer stone layers like sandstone and siltstone which is common in the bluffs at Bean Hollow.
The two parking lots for Bean Hollow State Beach are just off Highway 1 about three miles north of the Pigeon Point Lighthouse. The parking lots have picnic tables above the beach and vault toilets.
Address

CA-1 & Bean Hollow Rd
Pescadero, CA 94060

Phone

650-726-8819

Park Name

Bean Hollow State Beach

Other Names

Arroyo de los Frijoles Beach, Lake Lucerne

Owner

Pet Details

Dogs allowed on leash on beach and trail

Fees

Free parking at both beaches

Activities

Hiking, Tidepooling, Fishing,

Amenities

Nature Trail, Interpretive Signs, Tide Pools, Picnic Tables, BBQs, Restrooms, Tafoni Rocks
Redwood Terrace, US
12:32 am, December 1, 2023
50°F
L: 50° H: 57°
Feels like 44.11 °F clear sky
Wind gusts: 8 m/s
UV Index: 0
Precipitation: 0 inch
Visibility: 10 km
Sunrise: 7:04 am
Sunset: 4:52 pm
Nearby Beaches
0.7 miles away
Pebble Beach is the northern beach in Bean Hollow State Beach in San Mateo County. This is a small...
1.1 miles away
Pescadero Point Beach is just off Highway 1 in southern San Mateo County. It's about a mile south of...
1.5 miles away
The Bolsa Point Beach is located just north of Pigeon Point in San Mateo County. This sandy beach at...
Nearby Attractions
2.5 miles away
If you are visiting the San Mateo Coast and want to do a lovely short hike then this might...
Nearby Lodging
2.1 miles away
Situated right along the San Mateo Coast, the Pescadero Creek Inn supplies relaxing and comfortable accommodations, surrounded by towering...
Reviews
There are no reviews yet. Be the first one to write one.