4 Mile Beach at Wilder Ranch State Park
Photo Gallery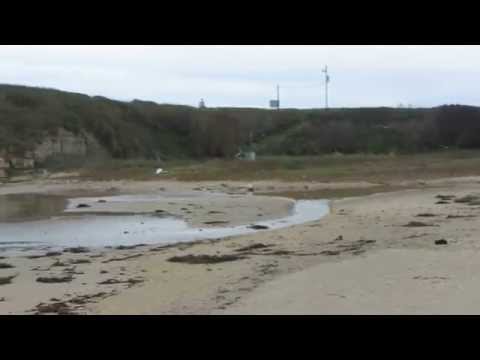 About 4 Mile Beach at Wilder Ranch State Park in Santa Cruz, California
4 Mile Beach at Wilder Ranch State Park is the most accessible beach open to the public in the park. Luckily this is one of the nicest and largest beaches in the park too. The name comes from the four mile drive it takes from western Santa Cruz to get to the parking lot along Highway 1. Another name would be Baldwin Creek Beach as this sandy spot is formed at the mouth of Baldwin Creek.
From the parking lot you'll have to walk the Ohlone Bluffs Trail toward the ocean crossing some railroad tracks and passing a wetlands area on your way to 4 Mile Beach. Before the beach a short side trail climbs up to the south from a landing with toilets. It ends at a pond with birds enjoying this secluded spot.
From the south end of 4 Mile Beach a trail continues along the bluff to 3 Mile Beach and Strawberry Beach if you are looking for a longer hike and more seclusion. Keep in mind that these beaches like many in the area is considered clothing-optional even though citations are being issued by the parks service. More trails for hiking and mountain biking can be found at the inland portion of Wilder Ranch State Park. Some of these trails begin at the locked gate across the highway from the 4 Mile Beach parking lot.
Address

Cabrillo Hwy
Santa Cruz, CA 95060

Park Name

Wilder Ranch State Park

Other Names

Four Mile Beach

Owner

Pet Details

No dogs allowed on the beach

Fees

Free parking

Activities

Surfing, Hiking, Mountain Biking, Birdwatching

Amenities

Trails, Toilets, Lagoon, Wetlands
Santa Cruz, US
2:33 pm, December 6, 2023
58°F
L: 54° H: 59°
Feels like 57.54 °F broken clouds
Wind gusts: 0 m/s
UV Index: 0.15
Precipitation: 0.04 inch
Visibility: 10 km
Sunrise: 7:07 am
Sunset: 4:51 pm
Nearby Beaches
0.6 miles away
3 Mile Beach at Wilder Ranch State Park is a secluded sandy beach west of Santa Cruz. It requires quite...
1.1 miles away
Red White and Blue Beach was once a popular clothing-optional beach and campground north of Santa Cruz, but it...
1.2 miles away
Strawberry Beach is a remote sandy beach in Wilder Ranch State Park north of Santa Cruz, CA. It's probably...
Nearby Attractions
Nearby Lodging
Reviews
There are no reviews yet. Be the first one to write one.